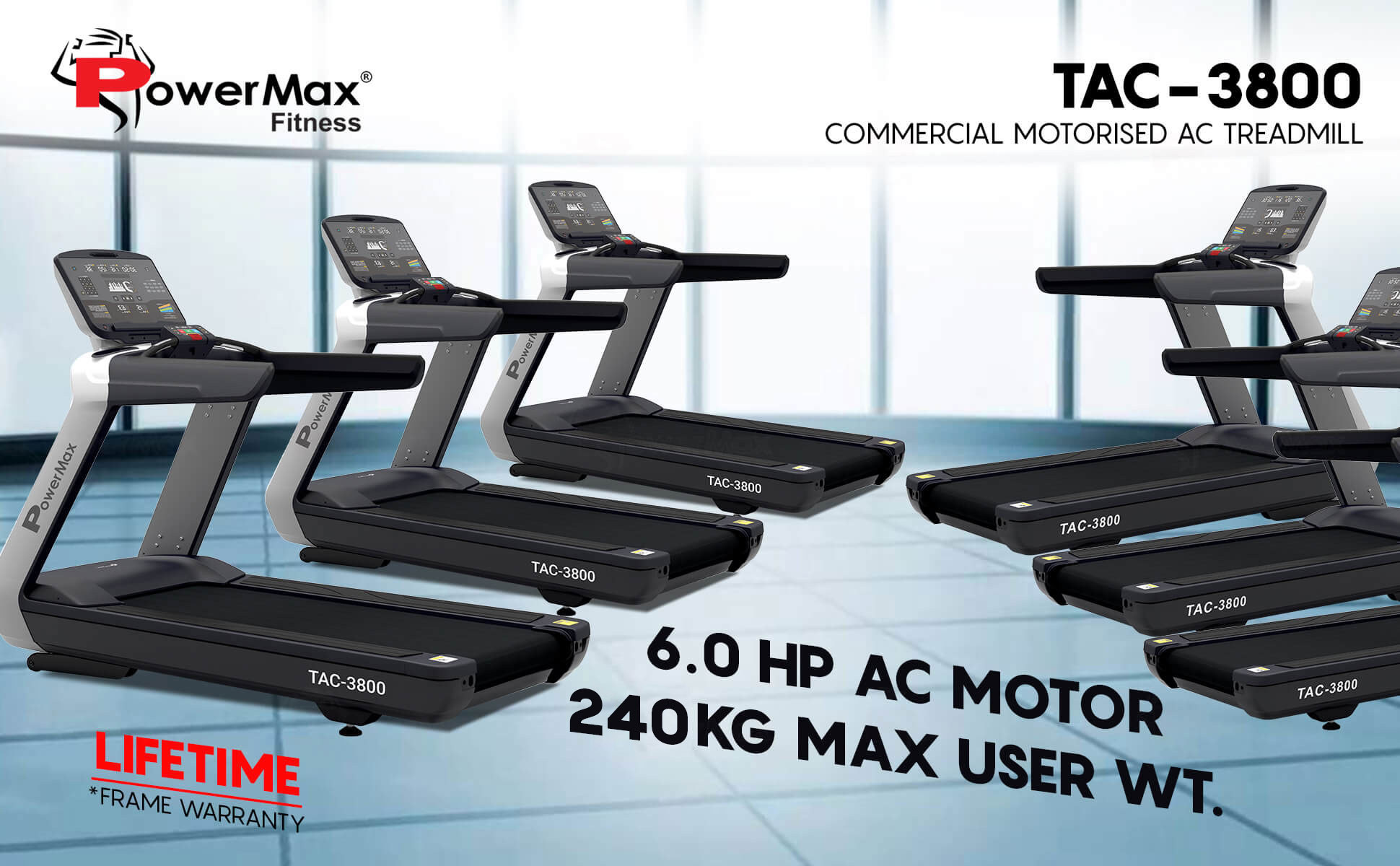 PowerMax Fitness TAC-3800 (6.0 HP) Commercial AC Motorised Treadmill with Dual LCD Display
New Larger Motor! The TAC-3800 is the perfect combination of simplicity, durability, and feel. Easily track your calorie goals. Your runs will be comfortable with our cushioned, low-maintenance-free. Extend your stride with the 1630X600mm running surface and Powerful 6.0 HP AC Drive Motor that calibrates with every step. Your run or walk will be quiet and smooth.
SmartPhone App
The one-of-a-kind "FitShow" app serves as a personalized digital fitness expert. The Pre-defined function, Heart rate function, Fitness Plan, and other many features are customized to your lifestyle and fitness level to achieve optimum results for your body. Scan the QR code or Search for "Fitshow" in Play Store or App Store to Download the Application.
Top Speed of 22.0km/hr
Not everybody likes to run at 22.0km/h. But it's nice to know this treadmill can totally handle it. Thanks to bigger motor size and faster flywheel gear ratio, we are pretty proud of the 22.0 km/hr top speeds of TAC-3800. Our in-gym efficiency booster means you can run every day without using excessive amounts of electricity.
Wide Running Surface
Upgraded running track with 1630X600mm running area provides you a capacious running environment.
Dual Display
Dual Display LCD Display on Handle & LED Display with 400m Track UI and Display on/off switch. Console Function - Time, Speed, Distance, Calories, Pulse, and Incline
Shock Absorption
Double Layer Running Board with shock spring for better shock absorption to reduce stress on your joints.
Cooling Fan and Heart rate
Cooling Fan for fresh air during a workout and Heart rate sensors on crossbar handle.
Commercial Treadmill
The Powermax Fitness TAC-3800 Commercial Treadmill offers unparalleled durability combined with our brand satisfaction. A rugged 6HP AC motor uses less electricity and requires less maintenance than standard AC or DC motors while still delivering tremendous power for a natural running experience.